Beside the range of predefined profiles, as shown down bellow, there are many more for you to design. Use the textual description, sketch or even the photo of a model, and we will make your individual ring. It will take a little longer to produce it, and cost a little bit more, but we are still inside the budget that you would expect to pay for such a production.





Ring sizes
We use the usual German size range 46-76, which are the same sizes as International 6-36. If you use Ø size or US sizes gauge, simply order in your size and we will make sure you get the exact size you need.
Rings engraving
We regularly use 3 standard fonts to engrave your client's names and dates inside rings, with LASER engraver.

FONT 1 - Englischescht - Script typeface:

FONT 2 - Arial - Letter case (both upper-case and lower-case letters):

FONT 3 - Arial - ALL CAPS (uppercase, capital letters, capitals, large letters):
 
All symbols such as double hearts and eternity are possible: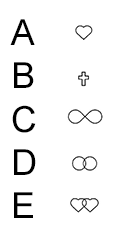 The costs of basic engraving (name, date and symbol) is included in the regular price of the rings. If you require brand logo inside the rings it will cost you a small fee of 2€ per ring.

Hallmark Stamp
We can provide hallmark stamp from Croatian assay office, but this means prolonged production process and time of delivery (2-4 days more). If you are interested in such a service, please make an inquiry for validity of Croatian hallmark stamp in your country.